TOKYO, Japan – Japan on Wednesday pressed Zimbabwe to hold peaceful elections next year and to deepen democracy.
Japanese Prime Minister Fumio Kishida met with President Emmerson Mnangagwa's envoy, former vice president Kembo Mohadi, who attended the funeral of former Japanese prime minister Shinzo Abe in Tokyo on Tuesday.
A readout of their 20-minute meeting circulated by the Japanese foreign ministry said Kishida also "expressed his willingness to assist Zimbabwe which has abundant mineral resources so that Zimbabwe can realise its potential."
"Kishida also expressed his expectation that the presidential election scheduled for next year will be conducted peacefully and that democratisation will make further progress," the Japanese foreign ministry said.
Zimbabweans vote in general elections in the second half of next year amid growing tensions between the main parties.
Mnangagwa must get the nod of his Zanu PF party at a congress next month to seek re-election. Should he prevail, he is likely to face opposition challenger, Citizens Coalition for Change leader Nelson Chamisa who ran him close in 2018 as the Zanu PF leader avoided a run-off by just 35,000 votes.
But even months before the vote, the opposition accuses Mnangagwa of using the state apparatus to target is officials, including two lawmakers Job Sikhala and Godfrey Sithole who are being held without bail, allegedly for inciting violence. The two men blame political persecution by Mnangagwa, who is also accused of using the police to stop his rival's rallies.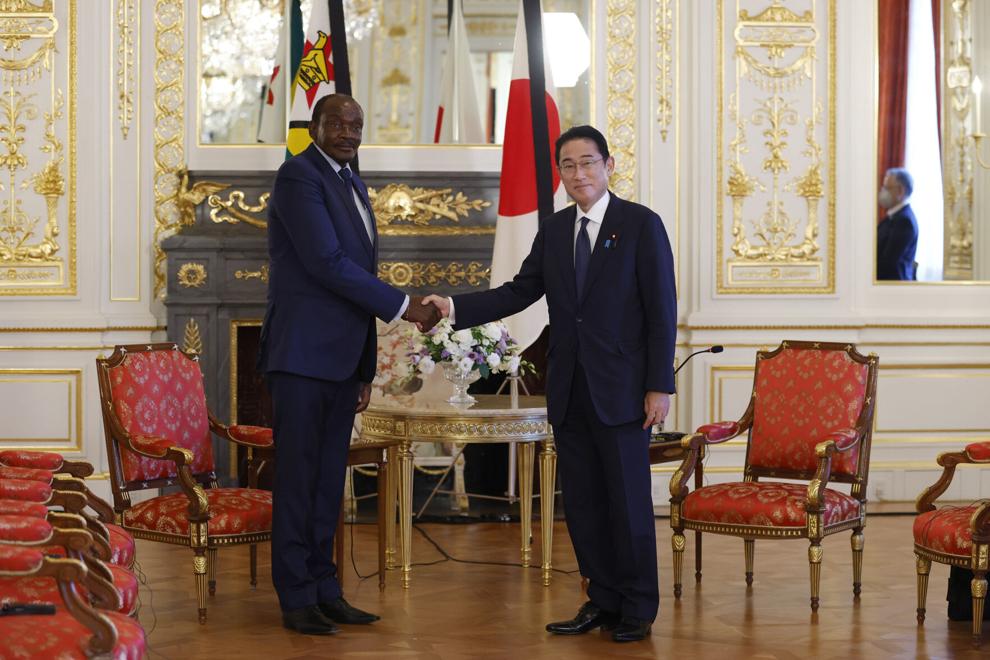 Fumio, the foreign ministry said, said he wished to "further develop excellent diplomatic relation established under Abe."
"Mohadi expressed his appreciation for Japan's support for Zimbabwe and his expectation for Japan's further support," the release said.
In 2019, two years after Mnangagwa sized power in a military coup, he met Abe on the sidelines of the seventh Tokyo International Conference on African Development (TICAD).
Abe reportedly discussed with the Zimbabwean leader the "importance of institutional reforms for promoting business."
"We hope that reform will be promoted and democratisation will be advanced in Zimbabwe," Abe was quoted as saying.
Abe resigned as Japanese Prime Minister in August 2020 aged 65. He cited ill health.
He was assassinated on July 8 by a gunman who shot him from behind while he was delivering a speech on a street in the city of Nara.
The suspect, Tetsuya Yamagami, admitted shooting Abe with a homemade gun, and said he had a grudge against him over his links to the Unification Church, also known as the Moonies, which he blamed for bankrupting his family.