HARARE – Zimbabwe's parliament approved a US$1.6 million tender for the supply of 173 laptops from 29 bidders – the lowest priced at just US$213,655.
The shock revelations are contained in newly-released documents. MPs have demanded that the Clerk of Parliament Kennedy Mugove Chokuda be sacked over the scandal.
Chokuda was forced to cancel the awarding of the tender after treasury objected to paying the equivalent of US$9,000 for each device.
The laptop tender was awarded to Blinart Investments, which is reportedly owned by Harare businesswoman, Elizabeth Muchenje. The company has previously won various tenders, including for the supply of mobile phones to the justice ministry.
Parliament had also awarded a tender for the supply of 79 desktop computers at a cost of US$243,000 to a company called Mid-End Computers and Hardware. George Guvamatanga, the finance ministry secretary, said the US$3,000-per-computer cost was "exorbitantly inflated."
Parliament's Public Accounts Committee this week grilled parliament staff over the awarding of the tender, with Kuwadzana MP Charlton Hwende (CCC) and Temba Mliswa (Independent) telling Chokuda to resign.
A document released by the committee shows that for the laptops tender, one company – Lacheln – could have supplied the specified gadgets for US$213,655 – about US$1,235 each – but was ignored for the higher bid.
For the desktop computers, Lacheln also had the lowest bid at US$87,295 for the order of 79 – about US$1,105 each. Instead, that tender was awarded to Mid-End Computers at nearly three times more under an unclear criteria.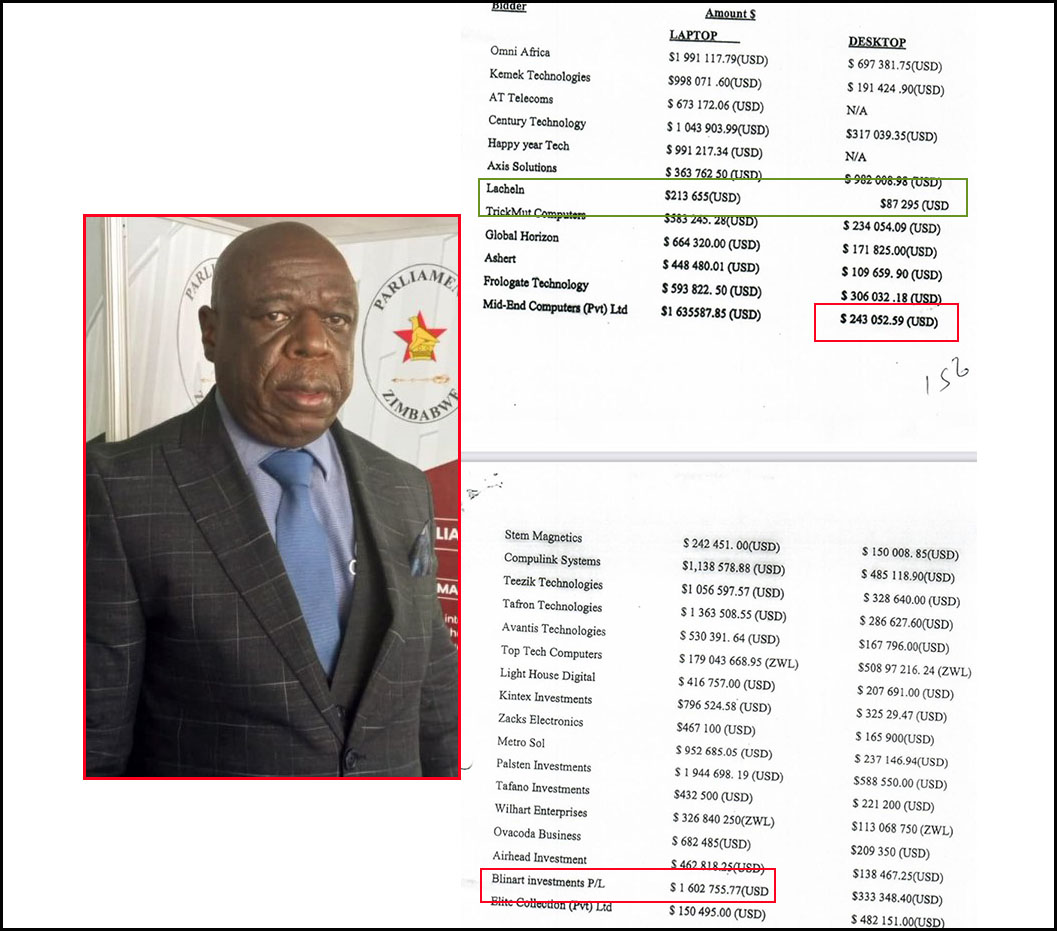 Mliswa said Zanu PF MPs had been whipped to defend Chokuda following a tense meeting of the public accounts committee on Monday.
"It just goes to show the depth of corruption in this country," Mliswa said. "Parliament cannot be involved in corruption and politics shouldn't be allowed to overreach, influencing the prescription of parliament. In parliament we should operate beyond the limitations of parties and personal preferences but uphold the agenda of the nation."
During Monday's hearing, Hwende told Chokuda that "as the accounting officer, you breached your duty." Mliswa, on the other hand, accused Chokuda of being "incompetent", adding: "You have to pack your bags and go."
Chokuda maintains that he had started a process of cancelling the awarding of the tenders before Guvamatanga intervened on September 14 – but he failed to produce the evidence of this.
In a letter to the two companies on September 22, Chokuda advised them that the awarding of the tenders had been cancelled "in the public interest."
"It is the Parliament of Zimbabwe's considered view that it is not morally and prudently justifiable to purchase the goods at the tendered price," he wrote.